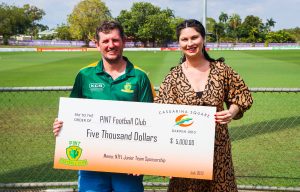 8 August 2022
Casuarina Square, under the new ownership of Sentinel Property Group, is sponsoring the PINT Junior Football Club.
The NT's largest shopping centre is focused on developing new partnerships and supporting outreach programs to assist the NT community in its continual growth.
In line with this, Casuarina Square hosted a radio competition on Mix 104.9 where listeners could nominate a local NTFL junior team to win a $5,000 sponsorship. PINT Football Club was chosen out of 10 teams nominated throughout the campaign.
PINT Football Club President, Spencer Harvey said, "The sponsorship will go towards continuing the Free Registration program into the 2023 season and creating more access for kids to play and learn this great game.
"This sponsorship goes a long way in helping us grow our Junior Club."
"We are inviting all the kids out there who have not had a chance to play before to come down and take advantage of the free registration."
Casuarina Square Centre Manager, Polly Lamond, said "Casuarina Square aims to be a true, local community partner and we are proud to support a local sporting club like PINT Junior Football Club.
"I hope this sponsorship will inspire and help young people become active in sports and the community."